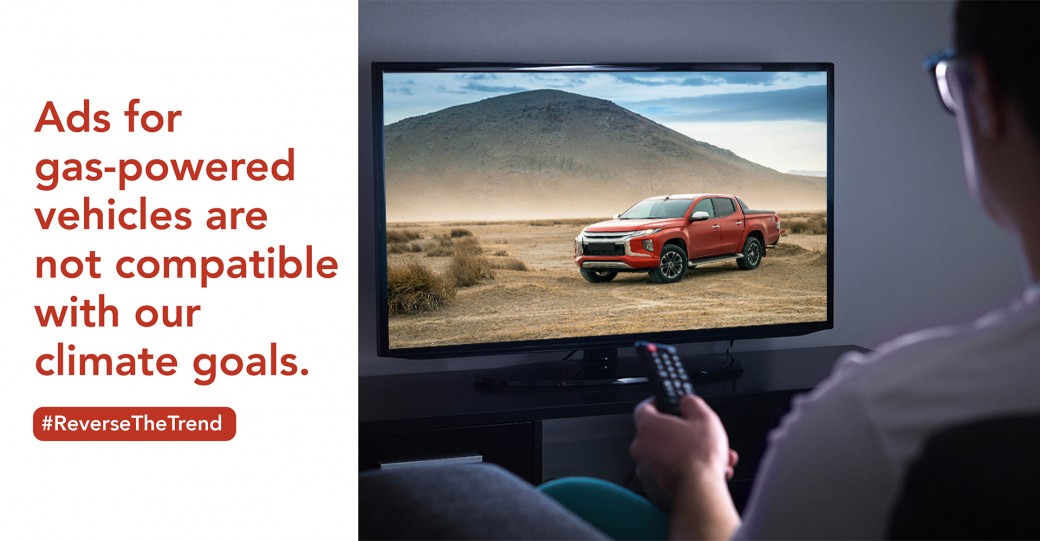 WE MUST TIGHTEN THE REGULATORY FRAMEWORK
ON ADS FOR GAS-POWERED CARS
AND LIGHT-DUTY TRUCKS
We need to reverse the trend !
As the climate crisis looms as one of the greatest challenges facing humanity, we are being bombarded with ads encouraging us to buy gas-powered vehicles (gas or diesel), particularly SUVs and other light-duty trucks.
Did you know that:
25% of Canada's greenhouse gas (GHG) emissions are from the transportation sector;
and that Canada has committed that by 2035, 100% of new vehicle sales will be zero-emission vehicles (ZEVs) ?
Yet Canada has no regulations to govern advertising on gas-powered cars, despite their environmental impact.
There are no requirements for ads to display a vehicle's fuel consumption or GHG emissions, no standards for protecting nature and the environment, and nothing against advertising them in nature settings.


We must demand a new regulatory framework for advertising gas-powered vehicles
Advertising has a powerful impact on consumer choices
The link between advertising and purchasing behaviour is strong. A 2021 Équiterre study shows that nearly half of new vehicle buyers admit that their decision was influenced by some type of media.
Car advertising, including ads for light-duty trucks, is prevalent in Canada. The automotive industry alone accounted for 21% of total digital advertising investment in 2018, putting it at the top of the list

80% of new vehicle sales in 2020 were light-duty trucks
Four out of five (80%) new vehicles sold in Canada in 2020 were light-duty trucks - including sport utility vehicles (SUVs), crossover utility vehicles (CUVs), pickup trucks and minivans.
Gas-powered vehicles, particularly light-duty trucks, have significant multidimensional impacts and we must recognize their proliferation on our roads as a public health and safety issue. We need to increase advertising regulations in order to reduce the demand for gas-powered large vehicles.
Whereas:
the Government of Canada has committed to reducing GHG emissions by at least 40% by 2030 and to banning the sale of new gas-powered vehicles by 2035, it must create stronger regulations on automotive advertising, particularly for light-duty trucks.

the Canadian Broadcasting Corporation (CBC) receives public funding, it must lead by example and align itself with Canada's climate targets. We therefore encourage CBC to update its advertising policy in light of the climate emergency.
We demand:
Of the Government of Canada and the Canadian Broadcasting Corporation
That the federal government commit to banning advertising for all internal combustion vehicles by 2025*;
That the federal government immediately tighten the regulatory framework for automobile advertising, with a focus on the heaviest and most energy-consuming vehicles;
That the Board of Directors of the Canadian Broadcasting Corporation update its advertising policy to no longer show advertising for internal combustion vehicles;
That there be no cost to CBC to update its advertising policy.
Automotive advertising is getting in the way of our climate goals and our work to protect our environment. It is high time that we stop allowing this influence.

Let's reverse the trend !
Keys facts

The environmental footprint of light trucks is tangible. Their negative impacts are direct and quantifiable, whether on the environment, road safety, public health, infrastructure, congestion or household finances. For example :
Environmental footprint : GHG emissions from light trucks increased 156% between 1990 and 2018 in Canada! [1] Through their greater consumption of fossil fuels, large vehicles contribute to air pollution which has significant public health implications in Canada.
Safety : The feeling of safety associated with driving a light-duty truck is one of the most important variables when choosing a vehicle. However, the advertising associated with SUVs and other light trucks fails to recognize the risks that these vehicles pose to road users outside the vehicle.
Infrastructure : The heavier weight of larger vehicles results in premature wear and tear on road infrastructure and therefore higher costs for all taxpayers.
Household Finance : SUVs are on average much more expensive and contribute to Canadian household debt: they cost on average 10 000 $ more than a standard car in Canada.
* The federal government announced in June of 20201 that in 14 years, or 2035, new passenger cars or light-duty trucks powered by combustion engines (gasoline or diesel) will no longer be sold in Canada. Therefore intermediate targets for 2025 and 2030 should be set to gradually reduce sales of new combustion engine vehicles before they are banned. On the other hand, we note that the advertising of these vehicles is pervasive and influences the behaviour of Canadians.
[1] Page 22 of the Report. And by 161% in Quebec for the same period between 1990 and 2018.
Source : Study "Understanding the rise of light trucks in Canada in order to reverse the trend" by Équiterre
Goal
16119 signed. Let's get to 20000!
* Reverse the trend will protect your privacy.